Volunteers
Our volunteers are everyday people who make extraordinary contributions.
Would you like to contribute to the work of the National Trust and its mission to conserve and interpret WA's unique heritage by becoming a volunteer?
Our volunteers are involved in a range of different activities according to their skills and interests. These range from opening our properties for the enjoyment of the public, assisting with caring for our collections or gardening to keep our grounds in order. National Trust properties can be found throughout Perth, the South West and Goldfields.
If you are interested, read about one of our volunteers below and give us a call on 08 9321 6088.
Volunteering for the Trust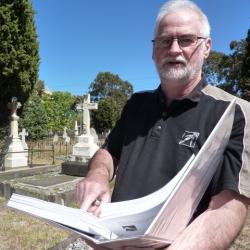 Brian has a long association with the National Trust. In the early 1970s along with a number of colleagues working at the Melbourne docks he worked on the restoration of the Polly Woodside.
They were in fact trespassers who took the initiative without the permission of the Trust.
Soon one of the trespassers was employed by the NTVIC as a project manager for the project, and with the support of other volunteers began fixing up the ship. After travelling around Australia he in ended up in Perth in 1995, and began volunteering in 2007.
He is also a Perth Guide city Volunteer and a Perth City Walking Guide, as well as helping with Convict and colonial tours and the Perth Town Hall orientation tour.
Brian cites feeling connected with History & a curiosity about the place he lives, as well as an interest in making a valuable social contribution as his reasons for volunteering.
---