This walk focuses on lives in pre-capital Canberra.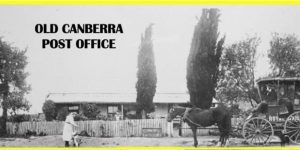 Faith, suicide, hope and redemption shaped the family that once ran the old Canberra Post Office. The Murtys ran an office through which came all postal, telegraph and telephone messages in the district. Local residents collected their mail and newspapers from postmistress Priscilla, exchanging the local news as they did. It was also the place from where photos taken in 1910 show the last surviving surface rock features of pre-capital Canberra. And past those rocks one of Australia's earliest heroes was carried to his grave. This short walk will cover that place, those rocks, and the life and times of the Murtys.
There is some walking on rough slopes – wear stout shoes. A busy road will be crossed. Duration: 1 hour.
For the comfort and safety of other walkers, we do not allow dogs on our walks.
Note: This Walk covers similar content to that of the Griffin's Lost Lines walk.
Bad weather: Unless otherwise advised by email, the leader will be at the meeting point where a decision will be made as to whether to proceed or postpone.
Bookings Essential: https://postsrocksandredemptionwalk.eventbrite.com.au
Don't forget daylight saving starts on Sunday 6 October!